Get Specialist Help for Commercial Water Damage Repair in San Antonio
1/15/2023 (Permalink)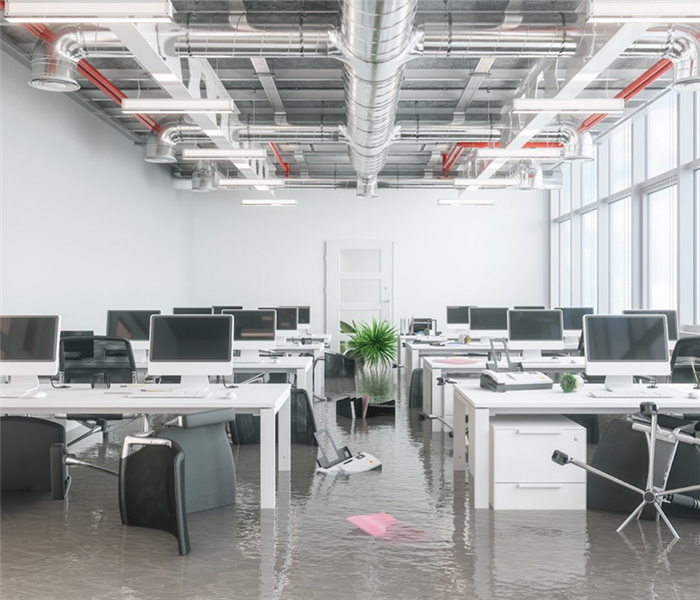 Commercial water damage can certainly stop business from proceeding. Call our team to come out and start the water removal and drying process.
Commercial Water Damage Repair in San Antonio Is Faster with SERVPRO
Water damage is a source of stress not just for homeowners but also for businesses. It is important to handle water intrusion incidents on time to avoid a huge loss. Some causes include leakages from the roof, broken appliances or equipment, a damaged HVAC system, and a broken sprinkler system. The damage might vary in the different causes, but it needs to be handled quickly.
As a commercial property owner or manager, water damage is not an issue that should cause you to lose sleep. SERVPRO offers effective commercial water damage repair in San Antonio. Our technicians are well-trained and armed with sophisticated equipment to ensure no situation is too hard for us to handle. We can complete the repairs while causing minimal disruptions to foot traffic.

SERVPRO also has licenses from regulatory bodies, which ensures that restorers are qualified to handle such situations. We also work with your insurance provider to ensure the damages don't drive you out of business.
In the process of cleanup and repair, SERVPRO uses such equipment as:
Self-priming trash pump to extract the standing water.
Structural cavity drying equipment to enable the flow of air into affected hidden areas for faster drying
Air Filtration Devices (AFDs) filter out airborne air particles.
Refrigerant dehumidifiers extract moisture from the air and affected items.
Preventing mold growth in your business after water damage is vital to SERVPRO's repair. The Federal Emergency Management Agency (FEMA) has it that mold develops within 48 hours after exposure to water damage. Our drying process denies the mold any moisture that might aid in its development. Our AFDs have HEPA filters that filter out any airborne mold spores. This eliminates the probability of mold developing as repairs continue.
To avoid water damage driving you out of business via excess costs, losses, and inhibition of the flow of goods and customers, contact SERVPRO of Braun Station for help at (210) 267-2159. We're Faster To Any Size Disaster.